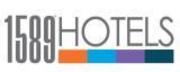 1589 Hotels
Headquarters
Gurgaon
Branch Location
Jaipur, Lucknow, Hyderabad, Jodhpur, Haldwani, Chittorgarh, Vadodara, Bhavnagar
IATA Reference
Operating Since
2009
Awards/Special Mention
...
1589 Hotels is owned and run by the Clarks Family. Keeping in mind the legacy of the parent group and their contribution to the Indian hospitality, 1589 caters to a generation of modern Indians, who are global in their outlook yet traditional in essence.

1589 understands the varied needs of the 21st Century global citizen who travels for work, holidaying and exotic retreats. Its aim is to offer comfortable to luxurious stays, at places like the exotic & scenic Pokhra to the holy city of Banaras to the bustling depths of Delhi. Whether you prefer to stay at a Jaipur Haveli or a comfortable inn for your corporate travels, 1589 specializes to offer the best of services at the best of prices for all your travelling needs.