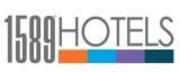 1589 Hotels
Headquarters
Gurgaon
Branch Location
Jaipur, Kishangarh, Chittorgarh, Lucknow, Bhavnagar, Vadodara, Haldwani, Delhi, Hyderabad, Goa
IATA Reference
Operating Since
2009
Awards/Special Mention
.
1589 Hotels is owned and run by the Clarks Family. Keeping in mind the legacy of the parent group and their contribution to the Indian hospitality, 1589 caters to a generation of modern Indians, who are global in their outlook yet traditional in essence.

1589 understands the varied needs of the 21st Century global citizen who travels for work, holidaying and exotic retreats. Its aim is to offer comfortable to luxurious stays, at places like the exotic & scenic Pokhra to the holy city of Banaras to the bustling depths of Delhi. Whether you prefer to stay at a Jaipur Haveli or a comfortable inn for your corporate travels, 1589 specializes to offer the best of services at the best of prices for all your travelling needs.

Customer
To strive towards giving our customer an experience of flawless service, catering to his every comfort and striving to anticipate and fulfill his needs, in a homely setting. Through customer feedback we hope to seek continuous improvement and raise our standards to an exquisitely personalized level. We wish to engage them straight from our heart and soul. We will create enduring memories in the album of life.

Staff
To motivate, train and develop autonomous personalities, well mannered, with honed up skills so that there is no dearth in their hospitality deliverables. A personalized attention to the welfare of their families such that each one of them becomes the soul of our organization. Continuous training to enhance their motivation and skills, and to develop new techniques to provide for their professional growth and customer care.

Corporate Social Responsibility
It is our endeavor to provide benefits to the immediate society in our environs and improve their life and incomes by providing gainful employment directly or by auxiliary services. We aspire to reduce our carbon footprint, by continually improving our operating procedures. We aim to grow and progress through means of sustainable development. We want to carve our own furrow in the respect and care of all beings from all walks of life.

Shareholders
The organization has been built with the purpose of developing human resources and partner investors attached to it. It thrives on the principles of complete transparency and unrestricted growth. All profits will be continually reinvested for the greater objective of expanding the organization.

Innovation
To continually develop our existing SOP's through customer and staff feedback. We aspire to develop an atmosphere where decisions related to innovation are delivered/implemented through the encouraged involvement of our stakeholders – A novel approach to legendary hospitality
To develop an environment for independence and growth of our human resource so that they are able to empathize with our customers thereby predicting and fulfilling their aspirations, providing them the ultimate experience of comfort and solace under an ambiance of love.
Our Values
We endeavor to care for all our stakeholders
We find our happiness in others happiness.
We are scrupulously honest in our service and with our rates so that everyone receives true value for their money.
We are wholesome in our service attending to comfort, taste, quality, quantity, and equal respect for people of any background.
We believe in offering complete, kind, fair, and loving service to our esteemed customers.
We are ambitious to shake up the hospitality industry with reliable, true, and gratifying experience that people will want to come back to us, over and again, every time and for always. We want to pioneer a new paradigm in the hospitality sector.