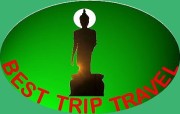 Best Trip Travel company limited
Headquarters
Thailand
Branch Location
11/4, Moo 4, Mooban Nunthawan, Talingchan Road, Tambol Saothong Hin, Amphur Bangyai, Nonthaburi Province -11140, Thailand
IATA Reference
TAT,ATTA
Operating Since
15 July 2015
Awards/Special Mention
N/A
About Best Trip Travel company limited
About Best Trip Travel Co.,Ltd
Best Trip Travel team is led by Ms.Pat who has been in the inbound tours business for more than 3 decades and has always focused on the Indian traveller and has build up a great reputation and credibility in the market offering the best of customer service and value for money tours in Thailand.
Best Trip Travel has been established as an inbound tour operator in Bangkok, Thailand.
Our Traditional Business model is based on :-
"THE UNBEATABLE PRICING AND NO HIDDEN COST WITH THE HIGHEST LEVEL OF CUSTOMER SATISFACTION"
Having been managed by a team of dedicated staff we offer the services in following field:-
- Handling inbound FIT/GIT passengers throughout Thailand
- Tailor-made incentive and seminar groups
- Hotel Reservations throughout Thailand with diversified meals
- Arrangements of all models of transportation within Thailand
- Sightseeing Tours, Nature Excursion and Trekkings within Thailand
- Budget Travellers
- Spa & Health & Check up Program & Beauty Service
- Shopping Tour
- Exibition & leisure Package
- Exclusive Golfing Packages
- Arranging Thai Cuisine Cooking Classes
- Romantic Holidays
- Creating the tour packages in Thailand to match with the period of travel & budget.
The company excels in servicing all above branches of tour operations because of the close and cordial working relation with the hotel and transport industry in Thailand.
This has been achieved by keeping our moral and ethical policies high since our inception.
We, hereby asure you that we are well equipped to handle all your requirements so as to satisy your company, if given a chance to do so.
We sincerely hope that above brief company profile shall satisfy your queries re ourselves and that we shall be on our way to build a healthy and prosperous commercial relationship at the earliest.
"Enjoy your holidays with BEST TRIP TRAVEL"