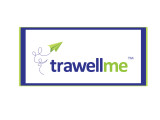 Trawellme Tour Associates LLP
Headquarters
BANGALORE
Branch Location
Karnataka
IATA Reference
Operating Since
2011
Awards/Special Mention
SPECIALISTS OF GREECE, MAURITIUS, SOUTH AFRICA, AUSTRALIA, THAILAND, PHILIPPINES ETC
About Trawellme Tour Associates LLP
Trawellme Tour Associates LLP was established in 2011 which was one of the first travel agency to work on customising or handcrafting unforgettable and affordable holiday experiences to our esteemed travelers.
We're proud of the relationships that we have in this industry. Travel, just like anything else, is all about who you know, and our travel experts know all the right people. It's the little things, like your favorite flowers at arrival, and the bigger things, like confirming space in a sold out hotel, that make a difference.
Travelers can chose from a wide range of Holidays, accommodation, Cruises, Activities and attractions at various destinations.
Established in 2011, we have steadily built a strong network of more than 30 global destinations and in India for domestic holidays which helps our clients in terms of service, quality and Value for money holidays. The company is represented by knowledgeable staff which specializes in customizing holidays. We are certified specialists of over 30 global destinations to provide best service and class.