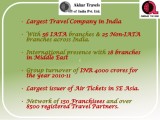 Akbar Holidays Pvt Ltd
Headquarters
Delhi
Branch Location
Our Offices: INDIA, USA, UK, KUWAIT, QATAR, OMAN, SAUDI ARABIA, MALAYSIA INDIA Branches address https://agents.akbartravelsonline.com/MyAccount/Branches Gulf Branches address http://ae.akbartravels.com/Utility/CustomerSupport USA Branches Address https://www.akbartravels.com/contact/USA UK Branch Address http://www.akbartravels.uk Malaysia Branch Addres http://www.akbartravels.my
IATA Reference
Operating Since
1972
Awards/Special Mention
India's Leading Online Travel Agency 2017 India's Leading Travel Agency 2017 India's Leading Travel Agency 2016 India's Leading Travel Agency 2015 India's Leading Travel Agency 2014 Asia's Leading Travel Agency 2013 India's Leading Travel Agency 2013 Asia's Leading Travel Agency 2012 Asia's Leading Travel Agency 2011 Asia's Leading Travel Agency 2010 Asia's Leading Travel Agency 2009 Asia's Leading Travel Agency 2008 Asia's Leading Travel Agency 2007
About Akbar Holidays Pvt Ltd
ABOUT AKBAR HOLIDAYS
Akbar Holidays Pvt Ltd (a Holiday Division) of AKBAR GROUP is the most comprehensive network of high-quality Travel Companies, with own offices in INDIA, USA, UK, KUWAIT, QATAR, OMAN, SAUDI ARABIA, MALAYSIA offering value driven ground operations and complete brand protection for quality-conscious tour operators, conference planners, incentives & event organizers.
The India office was established in 1970's and offers a full range of travel services - from planning of itineraries to ground operations, including bespoke travel arrangements with a high level of service. We have multilingual account managers, we have our Own Airport Counters in metropolitan airports in India with airport representatives, well experienced drivers, professional guides and a fleet of modern coaches & cars. Besides touring, our inbound division customize programs for Individual Travelers, Group, conferences, events and incentives ranging upto 250 people.
A partial list of our recent clientele who highly appreciated us for our services -
CHINA NATIONAL ACADEMY OF PAINTING, CHINA
LE UNIVERSITY STUDENTS GROUP, USA
VALUE SEARCH SRL, ITALY & THE TAPLOW GROUP
HIGH PROFILE PERSONALITIES C/o SAUDI EMBASSY NEW DELHI
AL-HAJRI FAMILY MEMBERS, SAUDI ARABIA
GUESTS FROM MINISTRY OF FOREIGN AFFAIRS (KUWAIT)
CASTRO CARVAJAL EUGENIO FAMILY (CARVAJAL GROUP), COLOMBIA
GANDHI PEACE MISSION GROUP
HDFC ERGO GROUP
AND MANY MORE
Regional Network: 150+ own offices in Pan India, Gulf Countries, US, UK. Malaysia for ground operations and to ensures seamless services.
Account Managers: Multilingual staff is dedicated to specific market segments and specialization. Akbar Group have more than 5000+ full time staff.
24-Hour turnaround: All queries are answered within 24 hours, followed by detailed proposals.
IT: Our Information Technology department regularly updates systems, ensuring the latest cutting edge technology to provide better and more efficient service.
Transport Division: Akbar Holidays has an exclusive fleet of modern cars and coaches all equipped with international safety standards. Our smart team of Airport Representatives is on standby 24 hours a day to guarantee fast and efficient meet-and-greet services and hotel transfers. Drivers would be neatly turned out in uniform with badges. With additional request, we provide vehicles would have proper signage, mineral water, soft drinks and a first-aid kit. Coaches will never be filled to more than 90% of capacity to ensure the comfort of our guests.
Meet & Greet At Airport: We will make arrangements to meet all guests at the airport and they would be escorted to the hotel in individual private cars and coaches as per the requirement and arrival / departure details. All our staff will be well dressed with name badge / ID cards, mobile phone and paging board.
Guides: We will assign the best multilingual guides (English speaking and/or European language speaking as per requirement), who are highly knowledgeable in Indian history and culture. Our guides are expert speaker, skilled group leader and experienced problem solvers.
Signage, Display Boards & Backdrops: All signage, display boards & backdrops will be developed as per your requirements.
Special baggage handling: We would provide assistance for baggage collection at airport. Sufficient number of porters and trolleys would be made available. Baggage would be identified by the guests s and then tagged and transferred to the hotel in a baggage van. (In the unforeseen circumstances of lost baggage, our staff would liaise with the airline / airport on behalf of the delegate to find the bags).
Guest Relations & Quality Control: Our QC department ensures that all services, products and arrangements are continually monitored to provide the highest standards of punctuality, efficiency and attentive service