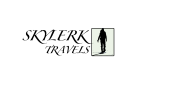 SKYLERK TRAVELS
Headquarters
Kolkata
Branch Location
1/5 Bijoygarh Jadavpur Kolkata 700032
IATA Reference
Operating Since
AUGUST 2015
Awards/Special Mention
ISO 9001:2005 CERTIFIED COMPANY
Skylerk Travels team is equipped with passionate and genuine travel specialists who present customers with exotic holidays to destinations that prove to be quite inspiring. However, there are a plethora of families or individuals who have had unpleasant experiences while venturing into tour packages. Some were unhappy because of the food and few others due to the accommodation. But our experts and guides at Skylerk Travels have come together to change this thinking by providing amazing tour packages that are not only cost-effective but satisfying as well. The travel specialists who accompany the tours are trained for helping and guiding everyone starting from children to aged customers. They know what it requires for making travelling with them the best experience so far for all clients. The personal relationships and expertise that they display and carry permit them to design journeys that are an ideal amalgamation of both adventurous and ultra-sophisticated vacations. Whether you are in search of some inspiration or have decided to start your voyage towards a particular destination, Skylerk Travels will always be by your side for guiding you. It will present you with a getaway that will surely exceed all your expectations. Gain information on all our exciting tour packages by browsing the official website.