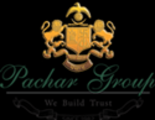 Pachar Group of Hotels
Headquarters
Jaipur
Branch Location
Jaipur, Jodhpur, Udaipur, Pushkar, Jaisalmer
IATA Reference
HAI, FHRAI
Operating Since
1982
Awards/Special Mention
Not yet
About Pachar Group of Hotels
Pachar Group now enjoys a remarkable presence in Rajasthan having made its position as one of the leading and largest companies in the Real Estate industry today spanning with projects all over the Rajasthan.
Pachar Group actively seeks growth by investing in a variety of systematically identified businesses making it a well-diversified conglomerate with a specific interest in a range of projects such like Residential, Premium Condominiums, Commercial Complexes & Malls.
The group is also involved in building Infrastructure projects such as Dams, canals and schools.
The Pachar Groups operations are presently in Rajasthan, which is culturally distinct from the rest of the India with a belief to meet the needs of current customers and be responsible to enhance the submissions to meet the future requirement and demands in real time.