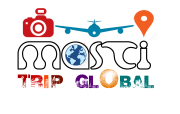 Masti Trip Global
Headquarters
New Delhi
Branch Location
NA
IATA Reference
Not yet
Operating Since
2014
Awards/Special Mention
not yet
Masti Trip Global is an outcome of the thoughts getting converted into action by Sanjeev and his team who are drawn from various walks of life, only common thread between them being the fact that all of them have been avid travelers and find traveling as a means of gaining knowledge, insight, and exposure to different cultural traits and the various ways people live their lives, apart from exploring the beauty and natural wonders various exotic locales possess.
We have tried to keep the message simple- vacation or travelling is for fun, and if you do so with your family and friends, the fun gets multiplied many times over and allow you to be yourself, be in a position to reflect and introspect, and plan greater things related to your personal or professional aspirations, which you would otherwise not be able to do in your daily chore.
Our network is wide-spread and brilliant in terms of understanding needs of individual, and design the itinerary and whole vacation program keeping in mind the individual needs of children, youngsters, and adults.
We are focused on delivering customer satisfaction and assure you that you will be delighted with the content of our program and packages and would not hesitate to speak about us in your network of friends and families.