India's First Holidays Marketplace
Search from 2635 packages from 810 verified sellers
Discover your holiday package
compare multiple holiday package
Get connected to verified operators
Where do you want to go for a holiday?
Search from 2635 packages from 810 verified sellers


Most Popular Holiday Packages Show More...
Booked most often in your area
1 Lac Happy Travellers!
Read what these happy honeymooners have to say! #Travel
0
Selfies Clicked
0
Kilometers Travelled
0
New Friendships
What Our Partners Say

Saurabh, Sales Manager @Himachal Travel Way
"Tripshelf has been a supporting hand helping me and my team achieve our sales targets by giving us good potentials as per our preferences."
Renu, Senior sales and Operations Manager @SSS Tourism
"All leads sent by Tripshelf are unique and of great quality. In terms of relationship, The account manager always gives extra personal attention to all our potentials helping us convert better. The Tripshelf dashboard helps me track my..."

Saika, Founder @Peacock Holidays
"The account manager at Tripshelf has always been available to help me with my queries. All my escalations are taken care of. There is a lot of personal attention given to our leads even in times of unrest at Kashmir."

Heena, Senior Sales Manager @Mili Tours and Travels
"The Tripshelf dashboard has helped us increase efficiency in the team. Constant updating of new features helps create excitement in the team. Our account manager ensures to maintain close knit communication with us always giving us..."

Neetu, Founder @ Crystal Travel Deals
"Along with leads, Tripshelf has helped me understand my sales process gaps and ensured good follow up results to boost my business."

Mona, Senior Sales Manager @Get and Go Himachal
"The team at Tripshelf is very resourceful. They solve all our queries immediately. The team is always available to push enquirers a little extra to help us get more business. Overall, My experience at Tripshelf has been great."

Varsha, Senior Sales Manager @Mountain Mysteries
"All leads sent to us are as per our preference within our mentioned budget, source cities etc. The account manager ensures regular daily communication with us which helps us take all escalations efficiently. All hot potentials are..."
Tripshelf Memories
Tripshelf Curated Holiday Packages
Book weekend getaways instantly from verified sellers
Tripshelf Quickies Holiday Packages Show More...
Book weekend getaways instantly from verified sellers 500 Cashback on all Tripshelf Quickies
Destination Types
Pick the type of place you would like to visit
Holiday Theme
Pick the type of place you would like to visit
Tripshelf Verified Tour Operators
Online leisure travel marketplace TripShelfhas raised Rs 1.6 crore in a pre-series A round from Gems Advisory and micro VC fund Quarizon. The company will use the funds for onboarding more tour operators onto the platform, enhancing technology and digital marketing to enable business conversions from enquiries.
Stepping into Holiday mode just got easier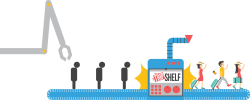 India's First Holiday Marketplace
Search from 2635 packages from 810 verified sellers
Discover your holiday package
compare multiple holiday package
Get connected to verified operators